Shopping Cart
Your Cart is Empty
There was an error with PayPal
Click here to try again
Thank you for your business!
You should be receiving an order confirmation from Paypal shortly.
Exit Shopping Cart
geld is een middel, geen doel
| | |
| --- | --- |
| Posted on April 14, 2014 at 5:05 AM | |
Toegegeven, ik heb het uit de tweede hand. Ik lees op AM-web: "Van Vroonhoven heeft de 'woekerpoliscultuur' zelf meegemaakt, als directielid van Nationale-Nederlanden, hoewel ze zelf niet verantwoordelijk was, schrijft het FD. "De intentie was nooit om slechte verzekeringsproducten te verkopen", zegt ze nu tegen het FD. "Maar ik heb de druk van de commercie zelf ervaren. Ieder jaar moest de winst weer iets groter zijn. Ruimte voor tegengeluiden was er niet."
Het gaat over Merel van Vroonhoven, sinds kort bestuursvoorzitter van de Autoriteit Financiele Markten, de toezichthouder op het gedrag van de financieel dienstverleners richting de consument. De toezichthouder, die er moest komen om de consument te beschermen tegen de cultuur, die er – zeker sinds de jaren negentig – ging heersen binnen financieel dienstverleners om niet langer VOOR de consument geld te gaan verdienen maar AAN de consument. De eerste aanzetten voor deze vorm van toezicht waren er al eind jaren negentig / begin van deze eeuw. En de argumenten om tot dit soort toezicht te komen werden versterkt door de twee grote schandalen die Nederland begin deze eeuw kende: de aandelenleaseaffaire en de woekerpolisaffaire.
Het zijn beide affaires, waar ING / Nationale Nederlanden een grote rol in heeft gespeeld. En waarin NN nog steeds een grote rol speelt. En waarin NN nu via het Europees Hof probeert om uitgesproken te krijgen dat levensverzekeraars vroeger de klant helemaal niet over kosten e.d. zouden hebben hoeven te informeren.
Niet bekend?
In de Consumentengids van december 1980 (!!) heeft de Consumentenbond zich al druk gemaakt over de hoge kosten in levensverzekeringen. Na opkomst van de beleggingsverzekeringen begin negentiger jaren hebben verschillende mensen de kat de bal al aangebonden. De broers Ivo en Falco Valkenburg stelden toen al verschillende jaren rapporten op, waarin zij constateerden dat er wel erg veel geld uit beleggingsverzekeringen van de consument richting verzekeraars verdween. Die rapporten hebben zelfs tot Kamervragen geleid. Prof. Arnoud Boot heeft ook toen al een behoorlijke duit in het zakje gedaan.
En ik kwam laatst nog een artikel van mezelf tegen uit het blad Money van 1997, waarin ik de consument probeerde te waarschuwen voor de verborgen kosten in dit soort constructies.
Maar de trein denderde voort (over de consument heen) en niemand hoorde het geroep van mensen als de broers Valkenburg en Boot.
Als dit – wat ik gelezen heb – inderdaad het antwoord van Van Vroonhoven is dan betreur ik dat zeer. Je zou willen dat ze zou krachtiger zou hebben gezegd: "Ja, in die jaren ben ik er achter gekomen dat Nationale Nederlanden evident verkeerde producten aan het verkopen was. Ik heb geprobeerd dat schip te keren. Maar met zo'n mammoettanker lukt dat niet in je eentje. Dus ben ik maar wat anders gaan doen."
Van René Frijters van KNAB heb ik wel eens gehoord dat hij – toen hij bij DSB binnen liep – eigenlijk al na een dag besefte dat het zijn club niet was. Zijn professionaliteit maakte dat hij er toch wat langer bleef zitten. Maar uiteindelijk stapte hij toch maar op. Dát is krachtig.
Op zichzelf lijken de intenties van Van Vroonhoven ook wel goed. Tenminste als ik af mag gaan op het interview in managementscope van 1 september 2005. (klik hier naast ........) Maar met zo'n vaag antwoord als in AM beschreven is (nogmaals: als dát is wat ze gezegd heeft) maakt ze wat mij betreft geen goede eerste beurt. Ik ben het meestal niet zo eens met de azijnpissers die anoniem reageren op AM-web. Maar dit keer kan ik me de reactie van velen wel voorstellen.
Oké: iedereen kan een misstapje maken. Hopelijk laat Merel van Vroonhoven op korte termijn zien dat ze weet in welke positie ze nu zit. Een toezichthouder die is ingesteld om de consument te beschermen tegen wolverige financieel dienstverleners.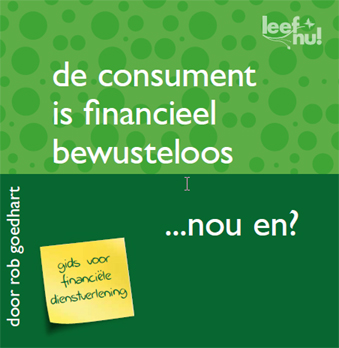 Want ik constateer in mijn boek 'De consument is financieel bewusteloos . . . nou en?' dat een zeer grondige verandering in het denken én gedrag van veel banken en verzekeraars nog steeds keihard nodig is.
En daar is (helaas) nog steeds een krachtige gedragstoezichthouder voor nodig. M.n. omdat de consument niet of nauwelijks een stem in het kapittel heeft en Van Vroonhoven die consument stem moet geven.
Categories: Consumentenbelangen
/